The science behind skin hydration boosters
Skin hydration boosters are a type of aesthetic treatment used to increase skin hydration, improve elasticity and reduce fine lines.
dark
What happens with the skin's hydro-balance as we age?
Hyaluronic acid is a natural substance in our bodies. It can bind huge amounts of water and keeps our body tissues hydrated, soft and flexible.
From the age of 28, we lose around 1% per year of the hyaluronic acid in our skin. With time, or due to exposure to environmental factors, our skin may become dry, fine lines and wrinkles may start to appear and the skin can lose its natural radiance. It is often difficult to restore the skin's inner hydrobalance by using creams that are applied on the skin surface. To hydrate and improve skin quality from within you need treatments that have a long-lasting effect below the skin surface.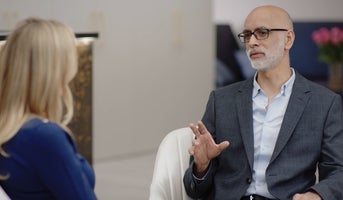 light
Restoring hydration and skin quality from within
Natural hyaluronic acid in our bodies form long molecular chains. This naturally occurring hyaluronic acid forms and degrades quickly, in 24-48 hours. Galderma's skin hydration booster has been stabilized with a cross-linking technology so that it does not degrade at the same rate. As a result, providing a long-lasting hydrating effect in your skin.
By injecting micro droplets just below the skin surface, it restores the natural composition of the skin, boosts hydration and improves elasticity.
Contain Hyaluronic Acid (HA) that keeps skin hydrated
Used to increase skin hydration, improve elasticity, and reduce fine lines
Used on face, neck, décolletage and hands